I baked this yesterday, inspired by Susan's writeup on Wild Yeast. I usually do sourdough breads that include rye and/or wholewheat or other grains - rarely all-white ones. Sometimes, though, I tire of the tooth-testing crusts on many of my regular SD breads. Until now, whenever I feel like a thinner crust bread I've returned to my pain de campagne. But this one of Susan's looked great from her pics and I liked the sound of it as she described it. So...thought I'd give it a go.
Voila!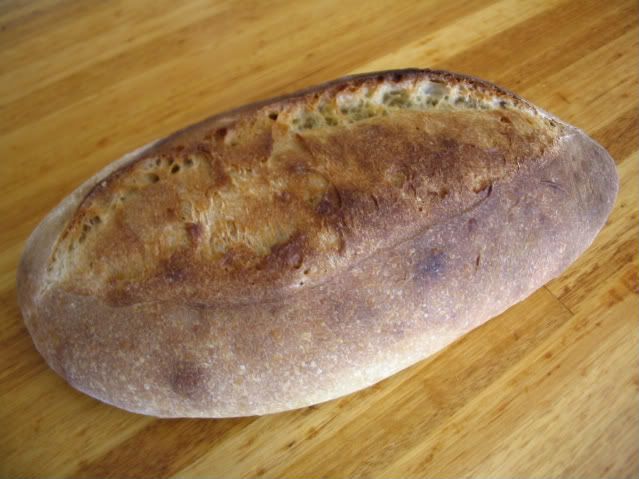 (submitted to yeastspotting)
This was a very nice bread - excellent for sandwiches, and toasted well. I found the semolina enhanced the flavour, elevating it above the other white SDs I've made. There was a mild tang submerged beneath the surface, the crust was thin, crisp and yummy, and the crumb was soft and elastic, but had good structure. I'll be making this one again.
The original recipe is here. I made a few tweaks. Will post them if anyone is interested. Otherwise, just follow Susan's directions and make your own tweaks - if any - as you see fit.
Cheers all
Ross