A few days ago my trusty pizza stone cracked in half. Faithful to the last, it waited until the end of a pizza bake - I didn't discover its demise until next morning. Sob. 2 years of hard work at extreme oven temps 3-4 times per week and it only cost me $8...you'd have to be happy with that, and I am.
No point in sentimentality, so I bought another stone, also on special @ $8, and christened it today with a new pain au levain - Leader's version as posted by karniecoops here.
Very happy with the result so far, but it's still cooling so that cherished moment we all anticipate when you cut into the crust and reveal the crumb for the first time is yet to come. Will post a crumb shot, but for now, here's one of the cooling loaf (temporarily removed from its cooling rack for its modelling assignment).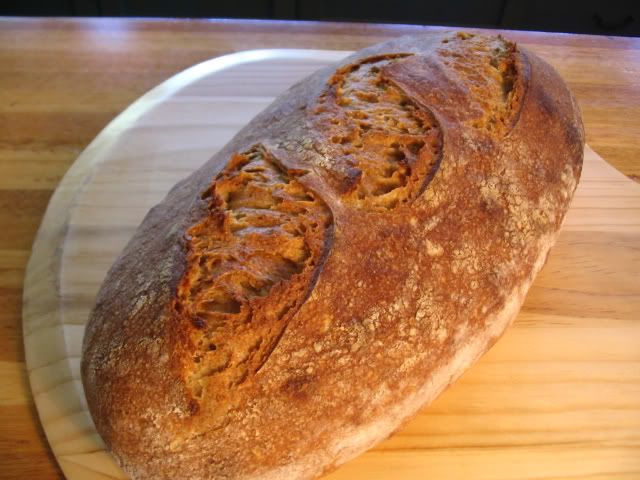 Thanks for karniecoops for posting the recipe. I've got a feeling this won't be the last time I bake this one. I departed somewhat from the recipe directions and adjusted the baking times to suit my oven, but if anyone wants to try this bread, suggest you follow karniecoops' directions in the first instance, or make your own tweaks. Nice dough to handle...
Cheers
Ross
PS: Here's a crumb shot - and now that I've tasted it, I have to say this is a superb bread IMO. I've tried quite a few pain au levain formulae, and this one is probably the best I've come across. Lovely full-flavoured rustic crust but not a jawbreaker; open spongy crumb with multiple levels of flavour. Highly recommended.